YOUR SHADE PROJECT PARTNERS:
From concept to completion, our focus is to provide a turnkey experience when meeting your shade design needs.
Our experienced, solution focused designers will meet your architectural shade structure needs.
We offer the strongest warranty in the industry – backed by the best customer service and sales teams in the business.
Build Cooler Projects with Shade
A shade structure on your next outdoor project. Our versatile shade structures come in more than 30 styles, with 17 different fabric colors available. They're an attractive way to increase the functionality of an outdoor space. Underneath our shade, temperatures can drop by as much as 20 degrees.
At Apollo Sunguard, we're proud to offer the industry's longest non-prorated warranty—20 years on our steel structures and 15 years on our fabrics.
We use high-density polyethylene fabric with ultraviolet additives, which are known for their strength, durability and vibrant colors. Tests from an independent laboratory confirm that many of our fabrics block up to 93% of UV rays as recommended by the American Academy of Dermatology.
We can also work with you to create the custom shade your client needs.
Our Shade Structure Services Include:
Fully Engineered Structures
Sealed Engineering Plans for all 50 States
Engineering & Design Assistance Available
30 to 45 Days for Structure Delivery After Receipt of Order and Submittal Approval
Multi Foundation Designs for all Geotechnical Requirements & Soil Conditions in all Regions
Site Specific Engineering Assistance for Special Site Conditions Included with Order
Structures Engineered to Withstand 115 MPH Wind Load per current  International Building Code (IBC) & Florida Building Code (FBC)*
All Structures Frames Engineered to Withstand 180 MPH Wind Load with Covers Off
*Apollo Sunguard recommends cover removal when winds forecasted to exceed a Category 1 hurricane of 74-95 MPH, 119-153 km/h.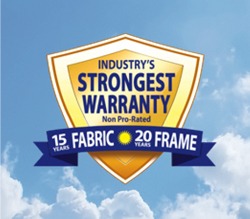 WARRANTY
We warranty all steel framework for 20 years and all fabric covers for 15 years.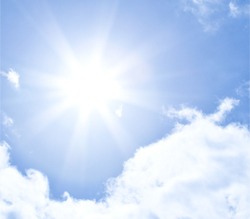 ULTRAVIOLET
PROTECTION
Our fabric is tested by an independent laboratory and a large selection of colors meet a minimum of 93% UV Block.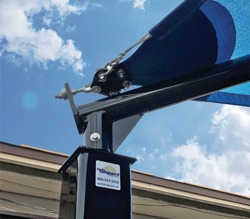 QUICK RELEASE
SYSTEM
Our innovative shade structures are uniquely designed with a quick release system to remove the fabric covers.