How We Make the Highest Quality Shade Available
At Apollo Sunguard, we are committed to making the highest quality shade available. But it doesn't just happen. It takes conscientious people who care about what they are doing, exceptional materials that stand up to long-term weather exposure and innovative engineering that is a step ahead of the pack.
The result is a level of quality we are willing to stand behind with the strongest warranty in the industry. When we work with you to design, fabricate and install shading for your location, we want you to be pleased every step of the way.
Here's how we make the highest quality shade in the industry.
Top Quality Materials
We use top of the line materials so our shade sails and structures are durable, easy-to-maintain and effective at reducing UV exposure and temperatures in the shade.

SHADE FABRIC AND THREAD
We start by importing raw fabric from the best cloth manufacturer in the world, MultiKnit of South Africa. As one of the first modern creators of shade cloth, MultiKnit makes a high-density polyethylene material that contains ultraviolent additives and is breathable, mildew-resistant and mold-resistant. We've found it to be the best shade fabric on the market, and we've done the testing to make sure of it.
In our fabrication plant in Sarasota, Florida, each panel is cut to exact measurements, sewn and reinforced. We use advanced, non-aging stitching thread that is able to stand up to direct sunlight for the life of the shade.
When complete, our shade panels are 65% American made and backed by Apollo Sunguard's warranty for 15 years.
APOLLO SUNGUARD CLOTH SHADE TEST RESULTS

UV Protection – Tested by International Testing Laboratories, an independent US laboratory. Many of the colors meet a minimum of 93% UV Block as recommended by sun safety organizations and advocates, and some block up to 96% of UV rays.
Fire Retardant – Tested by Southwest Research Institute and passes the ASTM E-84 fire rating test and the NFPA 25 and NPFA 701. Our fabric is rated a Class 1 Material.
Learn more about our fabrication and our 17 vibrant color choices.
STEEL SHADE STRUCTURES

The steel framework for Apollo Sunguard shade structures is manufactured to our specifications by Allied Steel Co., Inc. We use cold-rolled, galvanized tubular steel with a triple layer of protection. This creates more tensile strength and longer term corrosion resistance than most steels offer.
Our fabricators use special galvanized welding wire and triple-treat each weld with zinc coating for extreme corrosion protection. For marine and aquatic environment installations, we also offer hot dip galvanization that adds one more layer of protection against saltwater spray and weathering.
We put this much care and attention into the quality of our materials, so our customers won't have to worry about it. Apollo Sunguard steel structures are covered by a 20-year warranty.
Superior Design & Engineering
We design Apollo Sunguard shade structures to look great and perform even better, so our customers can enjoy the value and comfort of our shades without maintenance headaches.
DESIGN
Our modular design concepts come in so many colors and styles and can be interconnected into so many configurations, the options are virtually endless. Our designers work with each customer to create a shade plan that perfectly their needs and their location.
Whether you want something subtle that blends in with the surroundings or a shade structure that delivers the wow factor, we will work with you to design a custom shade solution.
ENGINEERING

Our shades attach with stainless steel cables and adjustable cable studs that make it easy to set and maintain cable tension for perfect, wrinkle-free shade sails.
As a Florida-based company, we know how important it is to prepare for weather events. We engineer our structures to withstand wind loads in accordance with the American Society of Civil Engineers, International Building Codes, and applicable city, county and state codes.
Our structures can withstand winds up to 115 MPH with the shade covers in place and up to 180 MPH with the shades removed. We do recommend removing the shades when winds are predicted to exceed Category 1 hurricane speed of 74-95 MPH, so we made sure it's fast and easy to do.
Our Quick Release System is the simplest and most practical release system in the shade industry. With just a wrench, you can remove Apollo Sunguard shades quickly if a hurricane threatens and reinstall them just as fast when the sun comes back out.
APOLLO SUNGUARD QUICK RELEASE SYSTEM™
Quick, clean and simple operation
No special tools needed, just a standard adjustable wrench
Maintenance-free, stainless steel and galvanized hardware
No internal tensioning mechanism that can jam
Cables hidden in reinforced hems
Simple and accessible replacement parts
Professional Service Team
Our expert professional designers, engineers, installers and customer service team are part of what makes Apollo Sunguard shades the highest quality shade products available. Our focus is on providing a turnkey experience, not just during sales and installation, but for the life of our shades. We welcome the opportunity to share our top quality products with you.
VETERAN OWNED
Apollo Sunguard has decades of experience delivering consistent, customer-focused service and superior products nationwide. We are recognized as one of the National Veteran-Owned Business Association's Certified Business Enterprises®. To meet this requirement, our company is at least 51 percent owned, operated and controlled by U.S. military veterans.
PROUD TO BE AN AMERICAN BUSINESS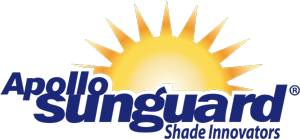 Oldest privately held shade structure manufacturer in the U.S.
All design and fabrication done in the U.S.
Industry's strongest warranty, non-prorated, 15 years on fabric, 20 years on frame
Proudly accredited as a Service-Disabled Veteran-Owned mall Business (SDVOSB)
Approved vendor of the Federal Government with awarded GSA contracts