Shade Structures that Wow
Modern shade structures come in so many colors, styles and configurations that the options are virtually endless. And with custom designs possible, they truly can be almost anything you can imagine. So, one of the first questions to ask when choosing a shade structure is, do you want something subtle that blends in with the surrounding environment and architecture? Or do you want something that stands out and creates a visual impact? Both have their merits, but let's look at some shade structures that deliver the wow factor.
Shades that Wow at the Waterpark
Waterparks, pools and aquatic centers call out for shady retreats from the sun. Apollo Sunguard shades provide UV protection and a reprieve from the heat. Plus, they come in captivating colors and shapes that add to the fun.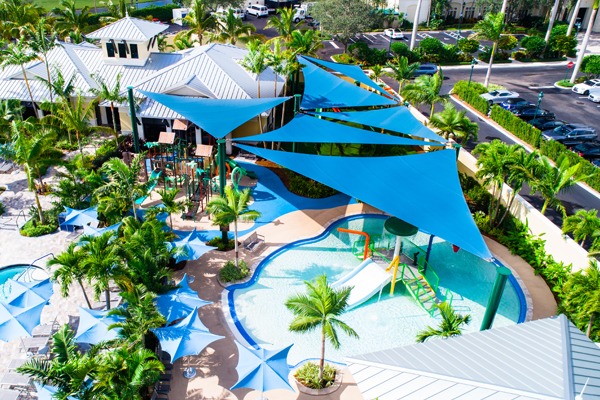 At the Woodfield Country Club in Boca Raton, FL, shade comes in the form of bright blue Sunguard Shade Sails™. The shades create a comfortable corner of the waterpark for kids and adults to get out of the sun and still play in the water or rest nearby.
Even from a distance, these shades make a big impact. They create a focal point in the same bright aquatic blues seen throughout the facility. On a hot Florida day, the 20+ degree drop in temperature under an Apollo Sunguard shade structure is a definite wow factor!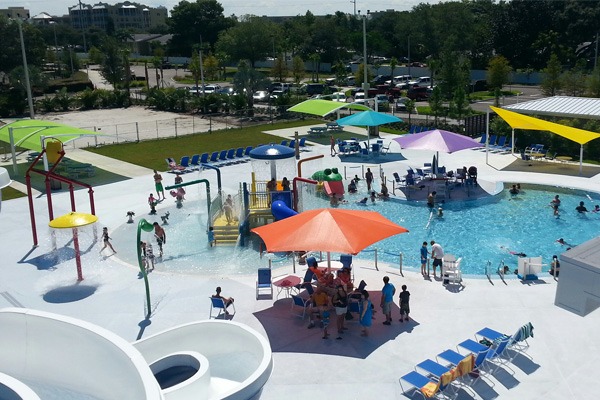 Another summertime family favorite is the Highland Family Aquatic Center in Largo, FL. Kids are wowed by the color and excitement of the facility, and the shade structures are part of that appeal. Hexagon-shaped BreezeBrella® HexBrellas in atomic orange, purple and laguna blue are combined with a sunflower yellow square hip-roofed, four-post Kite shade and lime green X-11 Eclipse Cantilevers. The result is a variety of colors and shapes that create restful islands of shade.
The rotating heads of the BreezeBrellas and the positioning of the Kites with higher and lower corners are smart engineering designs. Perfectly positioned, they cast more shade for longer periods of time throughout the day. A rainbow of colors, maximum sun protection, and smart engineering make these sunshades uniquely impressive.
Shades that Pop at the Playground
Outdoor shade is particularly important at playgrounds and parks because, according to the American Academy of Dermatology (AAD), children are especially sensitive to the damaging effects of the sun's UV rays. High quality shade structures reduce the risk of sun damage and keep surface temperatures down on playground equipment, while adding style and visual interest.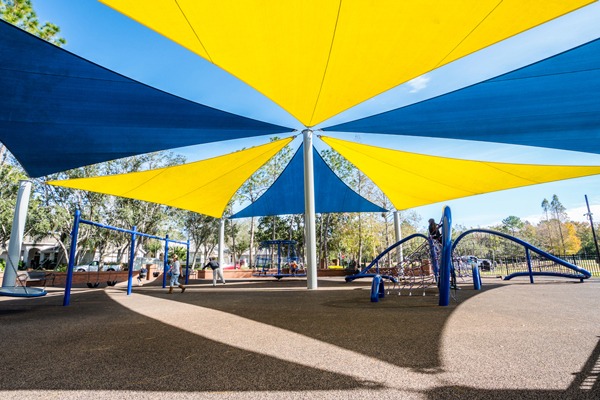 At Glenciff Park in Westchase, FL, alternating blue and yellow Sunguard Shade Sails are arranged in a circle. This configuration allows some sun to shine through while keeping most of the play area shaded. And it keeps the fun going by echoing the look of a spinning pinwheel!
Nathan Benderson Park in Sarasota, FL, is a 600-acre community park that includes North America's premier 2,000-meter sprint rowing course and a regatta center. Open to the public, it offers year-round recreational opportunities for all ages, including play and picnic areas. This modern facility needed shade that enhanced safety and comfort, while echoing the facility's sleek style. Apollo Sunguard Shade Sails were used again, this time in an elongated oval. These shades look cool and make temperatures cooler under the shade by up to 20 degrees.
Shades that Show School Spirit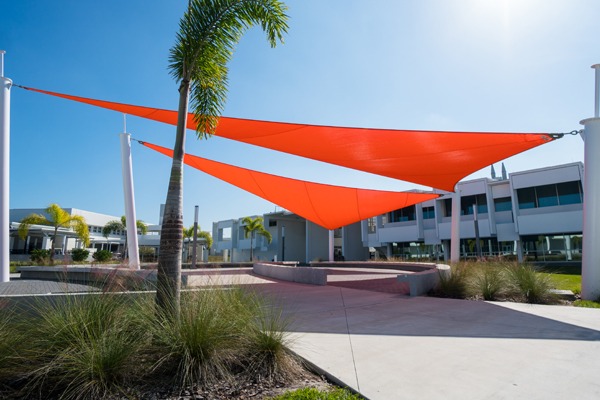 Shade structures at schools offer an excellent opportunity to fly your school colors high. And if you think you've seen all the ways Apollo Sunguard's Shade Sails can be used, think again.
At Sarasota High School, large sail shades are the perfect addition to an open courtyard, especially in the Sailors' signature shade of orange. The bold lines and grand scale define the space and create unity, while adding functional shade that shields students and teachers from the heat of the sun. Three cheers for making this courtyard a more pleasant place to congregate, and for reminding everyone whose turf they are on!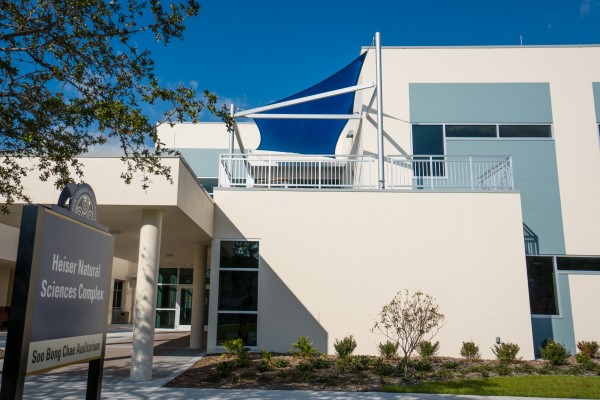 At New College of Florida, bright blue Sunguard Shade Sails get off the ground and fly high over a roof-top patio. The unexpected pop of color adds a focal point that draws the eye up and adds some surprise interest to the mostly white building.
Shading the elevated patio makes a great use of space, encouraging students and faculty to keep their heads up and enjoy some fresh air, while eliminating concerns about sun exposure and glare. In an unexpected location, even a modestly sized shade like this one can add a wow factor.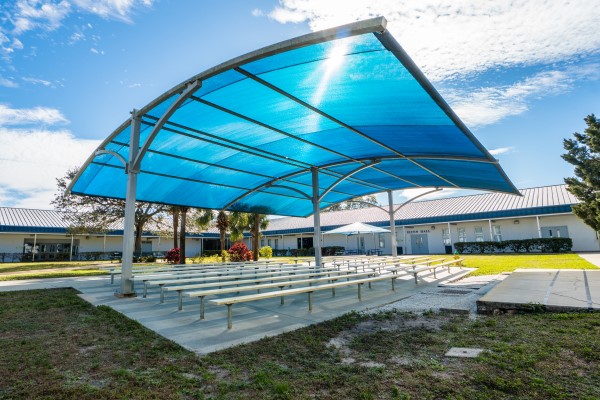 Of course, sometimes you need to go big. At the Rowlett Academy in Bradenton, FL, the wow factor comes from one of Apollo Sunguard's unique cantilevered shade designs, the X-11 Solar Eclipse II. Providing full coverage for a large area and requiring minimal vertical posts, this impressive shade structure is perfect for keeping an outdoor assembly area cool and comfortable with minimal sightline obstruction. This area gives the school a location for assemblies at a much lower price than constructing a building.
Shades that Spiff Up Sports Facilities

Sports facilities are another spot where flying your team colors and adding your logos to shade panels can score big. Selecting team colors for the structure and shade panel and adding a logo can make a standard Apollo Sunguard shade look like a high-end custom creation.
At Twin Lakes Park in Sarasota, FL, logos were added to BreezeBrella® HexBrellas that shade the concessions area and to the Monolever Cantilevers that shade the bleachers. The team colors are displayed in the red steel structure and the black shade panels, and the logos add pizzazz and a custom feel that makes you want to cheer for the home team!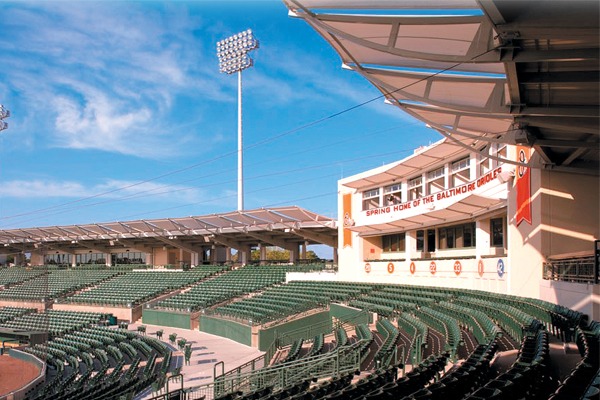 At Ed Smith Stadium in Sarasota, FL, where the Boston Orioles come for Spring Training, the sheer size of custom cantilevered shades makes an impact. When the sun is beaming down, the custom sunshades from Apollo Sunguard provide sun protection and glare reduction for baseball fans.
Sometimes the wow factor lies in showing athletes and patrons that you care about their comfort and safety by shielding them from UV rays and reducing the likelihood of heat-related illnesses.
Shades that Perk Up Parking Lots
Parking lots – expanses of blacktop – are notorious for heating up their surroundings. To combat this, some municipalities have enacted shade ordinances. In Sacramento, CA, for example, parking lots must be at least 50% shaded within 15 years of their construction. The leniency period allows freshly planted trees to mature, but for property owners who want the benefits of shade more quickly, parking lot shade structures provide the solution.
Apollo Sunguard shade structures for parking lots are designed to promote air circulation, reduce temperatures underneath by up to 20 degrees, and block up to 96% of the sun's UV rays. They also reduce the rate at which pavement deteriorates, which means fewer repair costs for the property owner.
Customers, employees and patrons enjoy the comfort and vehicle sun protection of parking in the shade, but there's more to it than most realize. According to the Environmental Protection Agency, shade can slow down the rate at which gasoline evaporates on a hot day, which is good for the environment and the wallet. And shade doesn't just provide sun protection. It also adds some protection from rain, hail, and wind. Lighting can also be added to parking lot shade structures to increase safety and security.
If those benefits of parking area shade don't wow you, the style will. At Noho Flats in Tampa, FL, bright red Monolever Cantilever sunshades from Apollo Sunguard make a bold statement. This full-coverage canopy shade for the parking area has no side posts between spaces to impede parking, making it attractive and practical.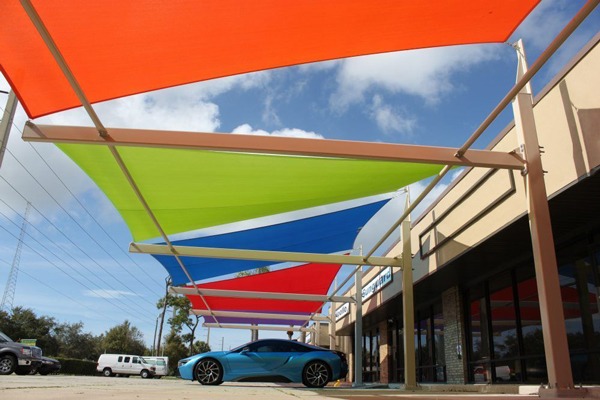 That red is striking, but why pick one color when you can pick five – or more? At Apollo Sunguard's own headquarters and showroom in Sarasota, FL, a row of XTL Shade Wave panels in orange, lime, blue, red, and purple catch the eye of anyone driving past, while keeping cars cool and comfortable in shaded parking spots. The cantilevered structure puts the posts out of the way of the cars for easy parking. We're doing our part to abate the urban heat island effect of parking lots and provide an added benefit for our customers.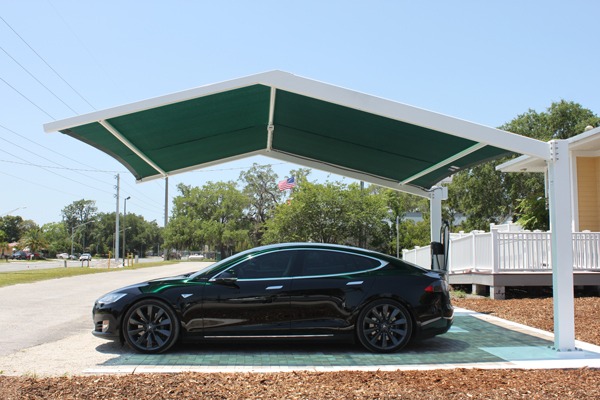 Shade is an absolute must for any parking lot that features electric vehicle charging stations. When EV charging stations are shaded, they charge vehicles up to 14 minutes faster and require less kilowatt energy to do it. By reducing UV rays and sun damage, they also require less maintenance for the charging station, protect the vehicles from internal and external sun damage, and lower ambient temperatures up to 20 degrees, which can prevent temperatures from rising inside the vehicle by even more.
Shades that Help Out at Home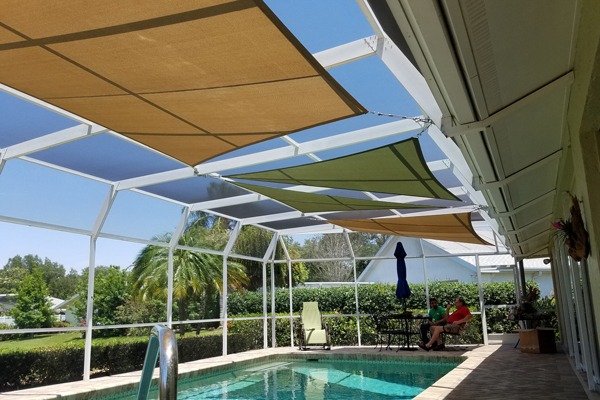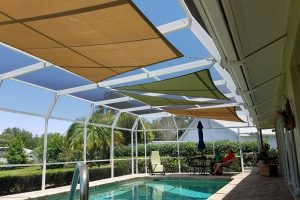 While there are many uses for commercial sunshades, there are just as many ways shades can enhance your home and add an impressive wow factor to your space. Residential sunshades can add balance to outdoor gathering spaces, increase the comfortable and usable area of your home, and add sun protection to your patio or lanai.
There are many options for adding sail shades inside and outside of pool cages. You may want to fully or partially shade a pool area, and add visual interest and UV protection at the same time.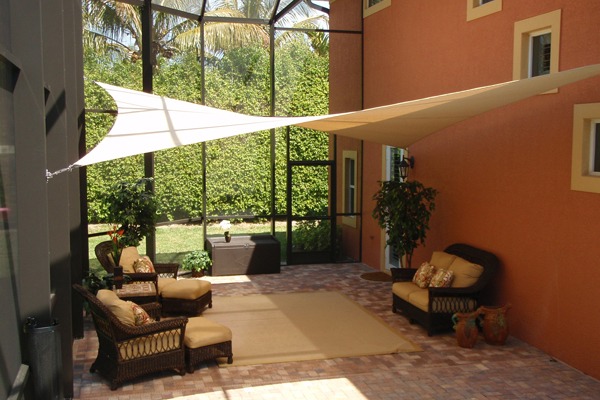 Sunshades can also be installed over driveways to add shaded parking, over children's play equipment to prevent sunburns, or over an outdoor seating area to lower temperatures and create a sense of protected, cozy space.
Apollo Sunguard sunshades come in many different colors and styles to add functional beauty and flair. With 32 different types of structures, 17 fabric colors, and 11 frame colors to choose from, you're sure to find the right shade for your space. And if that's not enough, our experienced designers will work with you on custom options and designs meet your specific requirements.
If you can dream it, Apollo Sunguard can build it. And we can also incorporate solar panels, lighting and more. The wow factor is waiting! For more information on creating an impact with Apollo Sunguard shades, contact us at 941-925-3000 or at [email protected].