SCHOOLS AND
HIGHER EDUCATION
Shade for Schools Enhances Safety &
Extends the Classroom
From daycares to universities, schools need shaded areas to provide comfortable and sun-safe outdoor spaces for learning, recreation, dining and gathering. Shaded outdoor classrooms and assembly areas provide space for social distancing and fresh air.
Apollo Sunguard offers shade structures that protect students, faculty and staff from UV radiation, the primary cause of skin cancer, and also lower ambient temperatures by up to 20 degrees. Thereby, reducing the risk of overheating and other heat related injuries.
Apollo Sunguard: The Titans of Shade
As the oldest privately owned shade manufacturer in the country with the industry's strongest warranty, you could say that Apollo Sunguard is the titan of shade. In fact, one of Apollo Sunguard's more popular shade structure is called the Titan for its great size and strength.
Specifically designed and engineered to span a large area, the Titan is the perfect shade structure for school campuses as it can enhance safety for students and staff and provide outdoor areas that extend the school's space.
Obstacle-fee, the Titan also helps to define spaces spectacularly, making outdoor areas more inviting and functional. To learn more on how we can help you plan your school shade, including long-term use of space, ease of maintenance and budge contact us today.
We Have Shade Structures For:
Assembly Areas
Athletic Venues
Bleachers
Colleges / Universities
Courtyards
Daycares
Early Childhood Centers
EV Charging Stations
Fitness Trails
Hospitals / Healthcare
K-12 Schools
Outdoor Classrooms
Outdoor Dining Areas
Parking Lots
Playgrounds
Picnic Areas
Pools
Schools
Sporting Facilities / Stadiums
Tennis Courts
Walkways
I would like to be contacted by a shade specialist.
Our Shade Structure Services Include:
Fully Engineered Structures
Sealed Engineering Plans for all 50 States
Engineering & Design Assistance Available
30 to 45 Days for Structure Delivery After Receipt of Order and Submittal Approval
Multi Foundation Designs for all Geotechnical Requirements & Soil Conditions in all Regions
Site Specific Engineering Assistance for Special Site Conditions Included with Order
Structures Engineered to Withstand 115 MPH Wind Load per current International Building Code (IBC) & Florida Building Code (FBC)*
All Structures Frames Engineered to Withstand 180 MPH Wind Load with Covers Off
*Apollo Sunguard recommends cover removal when winds forecasted to exceed a Category 1 hurricane of 74-95 MPH, 119-153 km/h.
AMERICAN ACADEMY OF DERMATOLOGY
Apollo Sunguard is the first shade company to win the Gold Triangle Award from the American Academy of Dermatology, an award which recognizes excellence in public education of dermatologic issues.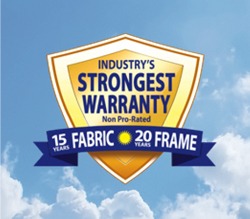 WARRANTY
We warranty all steel framework for 20 years and all fabric covers for 15 years.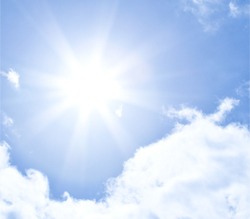 ULTRAVIOLET
PROTECTION
Our fabric is tested by an independent laboratory and a large selection of colors meet a minimum of 93% UV Block.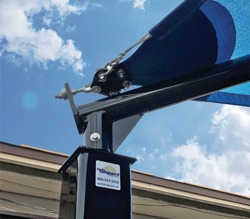 QUICK RELEASE
SYSTEM
Our innovative shade structures are uniquely designed with a quick release system to remove the fabric covers.