Shade Structures for Outdoor Classrooms Add Breathing Room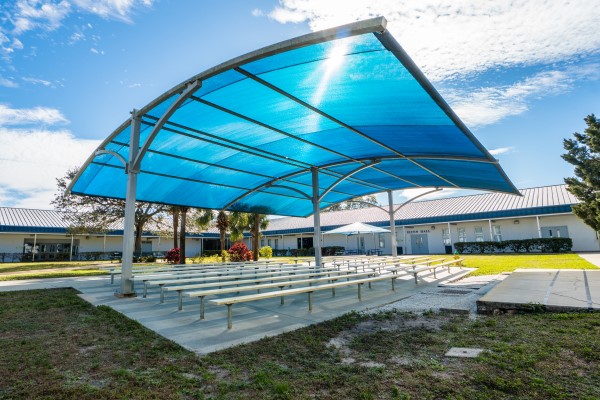 Rowlett Academy – Bradenton, FL
Advantages of outdoor classrooms with shade structures:
Virus transmission is less likely outdoors.
Puts unused space on your campus to good use, allowing for increased social distancing.
Outdoor classrooms take advantage of fresh air, ventilation and breezes.
Students and teachers are protected from the sun and UV rays.
Temperatures can be 20 or more degrees cooler under Apollo Sunguard shades.
Shades reduces glare from the sun that can impair vision, especially of computer or tablet screens.
Show parents, teachers and students you care about their well-being.
Distinctive shade structures in your team colors set your school apart.
Shaded outdoor classrooms can double as assembly space, congregation and eating areas.
The COVID-19 pandemic has brought a number of unexpected challenges, such as the need to practice social distancing. Many school districts are implementing guidelines that call for at least six feet of space between students and fewer than 11 people in a room. With space at a premium in most schools, meeting these requirements can be difficult.
Creating outdoor learning spaces can be one solution. Installing shade structures for outdoor classrooms gives schools a way to maximize unused space and create new, fresh air learning spaces that are cool and comfortable.
Outdoor Classrooms Offer Social Distancing Solutions
Moving instruction outside means fresh air and ventilation, as well as the ability to make use of open spaces on your campus. Outdoor classrooms provide additional room for social distancing and increase the number of students that can be accommodated at one time.
At Rowlett Academy in Bradenton, FL, one of Apollo Sunguard's unique cantilevered shade designs, the X-11 Solar Eclipse II (see sidebar to the left for image of shade structure), provides full coverage for a large area. This impressive shade structure is perfect for keeping an outdoor assembly area cool and comfortable while providing unobstructed views from each seat. This shaded outdoor classroom gives the school an open-air location for outdoor learning and assemblies and allows students to spread out.
UV Protection and Temperature Control for Outdoor Classrooms
Without shade, teaching students outside can mean exposure to high temperatures, sun burn and skin damage from UV rays. Shade structures made by Apollo Sunguard are designed to mimic shade trees and lower temperatures by up to 20 degrees. Apollo Sunguard's Shade Cloth is made with durable high-density polyethylene material with ultraviolet additives that block up to 96% of UV rays and reduce the risk of sunburn, overheating and other heat-related injuries.
Apollo Sunguard sunshades are available in 32 different types of structures, 17 fabric colors, and 11 frame colors, so finding your school colors should be no problem. Logos and mascots can be added for a custom touch, and we can also incorporate solar panels, lighting and more.
At Sarasota High School, large sail shades are the perfect addition to an open courtyard, providing shade and temperature control over outdoor benches. In the Sailors' signature shade of orange, the bold shade sails make this courtyard a safer and more pleasant place to congregate and also increase its usability as an outdoor classroom space.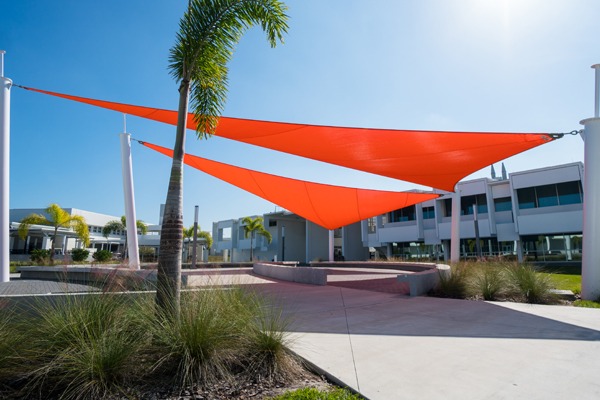 Creating Outdoor Classrooms from Unused Spaces
From corners of the front lawn to courtyards to areas between buildings, school campuses are full of unused spaces that have the potential to become outdoor classrooms. The Apollo Sunguard team can work with you to find these spaces and create shaded areas that get your students and teachers outside and enhance their well-being.
At New College of Florida, bright blue Sunguard Shade Sails fly high over a roof-top patio. Shading this elevated patio makes a great use of space, encouraging students and faculty to keep their heads up and enjoy some fresh air, while eliminating concerns about sun exposure and glare. Adding the shade maximizes the usage of this small patio as an outdoor classroom location or eating area.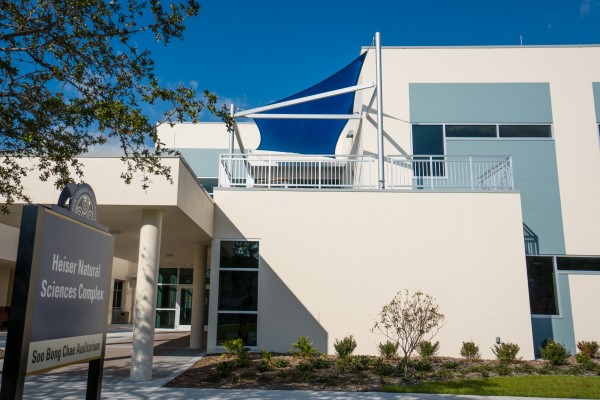 Outdoor Covered Areas for Schools
The Apollo Sunguard team can help you plan your outdoor classroom projects from start to finish. We can guide you in thinking through your needs, the possibilities and long-term use of the space, ease of maintenance and budget.
Apollo Sunguard shade structures can be set up quickly with little disruption to campus activity. They are wind, fire and corrosion resistant and are designed with a quick release system to make removing the covers easy. Our 20-year warranty on the steel framework and a 15-year warranty on the fabric is the best in the industry. As a BuyBoard-awarded vendor, we've been vetted by a cooperative to simplify purchasing and ensure value for schools, municipalities, county governments and more.
Let parents, teachers and students know that your school cares about their health, safety and comfort. For more information on creating outdoor classrooms with Apollo Sunguard shades, contact us at 941-925-3000 or at [email protected].