BENEFITS OF APOLLO SUNGUARD PRODUCTS:
Non-aging, rot resistant fabric – 15 year non-prorated warranty
UV Protection – Up to 96%
Long-term corrosion resistance
Breathable Fabric – Constant Cooling
Architecturally appealing and functional
Quick and easy cover removal
Fire Resistant
Wind Resistant (185mph and 115mph with cover)
Hidden Cables & Reinforced Hems
Simple and accessible replacement parts
Communities of All Sizes can Save with Apollo Sunguard
There are plenty of reasons to upgrade your community with shade. There are also big benefits to working with the team at Apollo Sunguard to add our custom structures to your hometown.
Our list of clients includes Hillsborough County, Manatee County Schools, Palm Beach County Schools, Broward County Schools, Clay County and Miami-Dade County. Not only does this show we have the staff and supplies to take on major projects, including custom structures, but it can also mean big savings for new local government clients.
Purchasing Made Easier Through Piggybacking
We can use existing local government contracts as templates for new ones, which can cut down on administrative expenses. Known as piggybacking, the practice allows a public entity to utilize a competitive bid or RFP solicited by any other governmental agency if it's deemed to be in the best interest of the public. We're happy to work with local government clients to ensure they get the benefits of piggybacking whenever possible. Some of our past local government contracts include:
Purchasing Made Easier with Our GSA Contracts
Apollo Sunguard has obtained a GSA Contract to assist government agencies with the purchase of shade structures and accessories. This means purchasing officers can skip the lengthy bidding processes and know they are getting pre-negotiated government pricing.
Our GSA contract (GS-30F-0029Y) is for both shade structures and EV Charging Stations, in which we also have a blank purchase agreement with the GSA Fleet for Electric Vehicle Supply Equipment (EVSE).
Purchasing Made Easier through Cooperative Purchase Agreements
Apollo Sunguard is a BuyBoard-awarded vendor. BuyBoard Purchasing Cooperative is a free program designed to simplify the purchasing process for schools, municipalities, county governments and more.
By leveraging the purchasing power of the group, members can achieve better pricing on products and services. BuyBoard members don't have to go through an individual procurement process, saving them administrative time and resources. Plus, members can rest assured that BuyBoard-awarded products have been competitively procured.
According to BuyBoard's website, it "evaluates vendor proposals on the basis of best value to cooperative members."
Contract # 592-19 Parks and Recreation Equipment and Field Lighting Products
Contract # 577-18 Building Entryway Awnings, Canopies and Related Accessories
Durable, Proven Products Backed by a Strong Warranty
Our durable fabric is imported from MultiKnit, one of the best fabric manufacturers in the world. Our shade structures are designed to withstand winds of up to 115 mph, and our custom structures come with our innovative quick-release system, making it easy to remove the fabric. They're also backed by our warranty: 15 years on all fabric and 20 years on steel framework.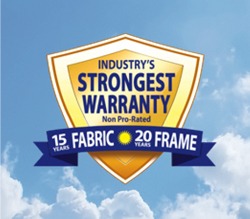 WARRANTY
We warranty all steel framework for 20 years and all fabric covers for 15 years.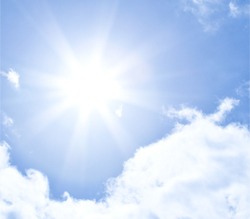 ULTRAVIOLET
PROTECTION
Our fabric is tested by an independent laboratory and a large selection of colors meet a minimum of 93% UV Block.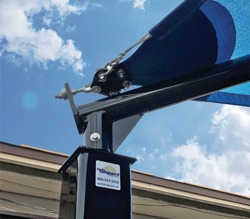 QUICK RELEASE
SYSTEM
Our innovative shade structures are uniquely designed with a quick release system to remove the fabric covers.