What You Should Know When Choosing Shade Sails
Our Shade Structure Services Include:
Fully Engineered Structures
Sealed Engineering Plans for all 50 States
Engineering & Design Assistance
30 to 45 Days for Structure Delivery After Receipt of Order and Submittal Approval
Multi Foundation Designs for all Geotechnical Requirements & Soil Conditions in all Regions
Site Specific Engineering Assistance for Special Site Conditions Included with Order
Structures Engineered to Withstand 115 MPH Wind Load per current  International Building Code (IBC) & Florida Building Code (FBC)*
All Structures Frames Engineered to Withstand 180 MPH Wind Load with Covers Off
*Apollo Sunguard recommends cover removal when winds forecasted to exceed a Category 1 hurricane of 74-95 MPH, 119-153 km/h.
Almost any outdoor living, lounging or recreation area can be improved with the installation of a shade. If you're considering adding shade, you may already know the many benefits of shade sails, including blocking UV rays, lowering ambient and surface temperatures, reducing sun damage and prolonging the life of shaded furniture and equipment. What you may not know is how to choose shade sails and shade structures that maximize those benefits and enhance your location. Here's what you should know when choosing shade sails.
Quality Matters
Choosing the right shade sails and structure can mean many years of enjoyment with minimal maintenance. For a shade to stand up to long-term exposure to the sun and weather, it must be made from top quality materials. This is especially important with triangular shade sails because of the tension on the corners of the shade where it connects to the structure or anchor points.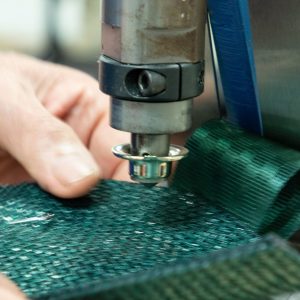 Shade Sail Fabric and Thread
Shade sails should be made from durable, easy to maintain fabric that blocks UV rays, stands up to wind and resists mold and mildew. A leader in the shade industry, Apollo Sunguard of Sarasota, Florida uses a high-density polyethylene that contains ultraviolent additives and is breathable, mildew-resistant and mold-resistant.
Apollo's sunshades are sewn with non-aging thread that maintains its strength in direct sunlight for the life of the shade. Shade sail corners are reinforced for strength and durability.
Tested to block 93% to 96% of UV rays depending on the color of the fabric and to meet fire retardant standards, Apollo Sunguard shade sails are covered under warranty for 15 years. Make sure to check the warranty thoroughly before purchasing shade.
Steel Shade Structures
Shade sails can be attached in a few different ways. Existing structures such as buildings, bleachers and playground equipment can be potential anchor points. Free standing frameworks are often used in open areas.
Shade structures from Apollo Sunguard are manufactured from cold-rolled, galvanized tubular steel. They are triple-layered and welded with zinc coating to provide more tensile strength and longer-term corrosion resistance than most steels offer. Apollo Sunguard steel structures are covered by a 20-year warranty and are built to withstand winds up to 115 MPH with shade sails or shade covers in place and up to 180 MPH with the shades removed. When choosing a shade structure, make sure the materials are suited to the weather and conditions in your area.
Learn more about Apollo's top quality materials.
Designed for Function and Beauty
To maximize location, usability and visual appeal, shade sails and shade structures should combine art and engineering. The right shade structure should serve as an aesthetic enhancement as well as a practical one.
The Art of Shade
Walkways, picnics areas, recreational areas and aquatic facilities all benefit from shade sails. When choosing shade, look for a shade design, color and shape that enhances the appeal and function of the location. Although many types of shade products are available, triangular shade sails are popular for their light and airy design. They can be configured to fit numerous areas and overlapped to provide additional coverage.
Whether natural colors fit the area or a bright pop of color is in order, the engineers at Apollo Sunguard can work with you to help you choose the right shade sail color and configuration. With 17 fabric colors and 11 frame colors, there are endless options to choose from. And if nothing fits the bill, Apollo will create a custom design to suit your specifications.
Engineered for Ease
Whether for winter storage, to prepare for extreme weather or to replace a damaged sail, at some point you will need to remove the shade sail fabric from the structure. When choosing a shade sail, make sure to choose one with an easy removal and reinstallation process.
Apollo's signature Quick Release System™ makes it fast and easy to remove shade sails and reinstall them. It's a simple process that takes less than five minutes with no special tools required. Stainless steel cable studs and galvanized hardware make it easy to set and maintain cable tension for perfect, wrinkle-free sails. When choosing a shade sail, look for this type of attachment system rather than sails with eyelets or grommets, which can tear.
Contact Apollo Sunguard
The most important thing to consider when choosing shade sails is to work with a company you can trust. Apollo Sunguard has been innovating shade since 1993 and offers the strongest warranty in the industry. We've shaded public parks, professional sports facilities and government properties, and we'd like to shade your next project. Contact us at 941-925-3000 or at [email protected].